Marco Avilés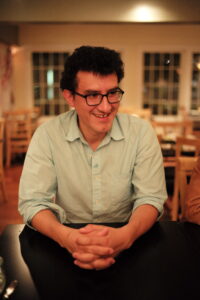 Marco Avilés es periodista y editor. Escribe sobre racismo y diversidad en las Américas en medios como The Washington Post y Ojo-Público. Y ha brindado talleres y charlas sobre estos temas en organizaciones como City University de Nueva York, el Banco Mundial, UNICEF.
Es autor de los libros Día de Visita (Aguilar, Libros del KO), sobre la vida íntima en el penal de mujeres de Lima, No soy tu cholo (Debate), un ensayo sobre el racismo en Perú y Estados Unidos, y el conjunto de crónicas De dónde venimos los cholos (Seix Barral), que el diario La República, en Perú, listó como uno de los 10 libros para entender el Perú y que el New York Times consideró uno de los más significativos del 2016.
Fue editor y director de la revista de periodismo narrativo Etiqueta Negra, y de la revista experimental Cometa. Empezó su carrera como reportero en el diario El Comercio, en Lima, y ha colaborado con diversos medios de Europa, Estados Unidos y Latinoamérica, como The New York Times, Washington Post, Smithsonian Magazine, Words Without Borders, El País Semanal, El malpensante.
En el 2014 migró a los Estados Unidos, donde trabajó como cocinero en el restaurante Tao Yuan, en Maine, y luego como intérprete en hospitales para trabajadores inmigrantes de la industria de comida.
Desde mediados de 2019 es candidato a doctor en Literatura Hispana en la Universidad de Pensilvania. Vive con su esposa y un perro sin pelo, Piji, sobre cuyo proceso de migración escribió una columna semanal en el diario La República. Todo lo que hace se puede ver en marcoaviles.com.