Elija entre las siguientes opciones
Registering in the platform is easy. Please follow these steps:
Create an account in the Journalism Courses system. Even if you've taken a course with us before, you may need to create a new account. Check to see if your previous username and password work before creating a new account.
Wait for a confirmation in your email indicating that your account has been created. If you do not receive this, please check your spam folder.
Log into the platform, scroll down until you see the course listings, and click on the Information and Elections in the Digital Era course.
A button will appear. Click "Enroll" to enroll yourself in the course. You will be able to access the course from the "My Courses" menu at the top of the page.
You will receive an email confirming your enrollment.
Please add the email addresses journalismcourses@austin.utexas.edu and filipa.rodrigues@utexas.edu  to your address book to ensure you receive emails about the course.
The MOOC aims at exploring the diverse malpractices, strategies and technics, which electoral stakeholders face online as well as the examples of multi-stakeholders' responses to contribute to a transparent and inclusive online ecosystem.
Upon completion of this course, you will be able to:
Better understand how the new digital era, including internet, social media, and artificial intelligence affect electoral processes; 

Identify how key elements of electoral processes (such as human rights, freedom of expression, press freedom, right to privacy, right to political participation, etc.) apply in the digital era;

Understand the difference and dynamics between disinformation, misinformation, malinformation and hate speech in the context of electoral processes; 

Recognize the main strategies and techniques used to spread disinformation and the targets within the electoral cycle; 

And be familiar with multi-stakeholder responses and lessons-learned on how to contribute to a transparent and inclusive online ecosystem.
Module 1 – The new information paradigm and elections
(September 19 – 25, 2022)
Elections constitute a pivotal moment in democracies and provide citizens with an opportunity to choose their political representatives who will make critical decisions on the present and future of a given country.  While the digital era has initially brought great opportunities for voters and candidates, social media poses new challenges for freedom of expression, safety of citizens, candidates and journalists as well as for the access to information. This module will provide you with a thorough overview of the new information paradigm and its impact on democratic elections when information sharing throughout the electoral cycle move online.
Module 2 - Disinformation, misinformation, and hate speech
(September 26 – October 2, 2022)
In this module you will learn the differences between disinformation, misinformation and malinformation and why we no longer use the term "fake news." We will also analyze the human drivers behind misleading content and how hate speech impacts the electoral and governance processes. We will discuss electoral-related violence, in particular against women and journalists.  
Module 3 - The impact of online harmful practices on the electoral cycle & an overview of responses and tools to tackle them
(October 3 – 9, 2022)
In this module we will review the diverse strategies and techniques used to spread dis-, mis- and malinformation. We will talk about the main targets of disinformation within the electoral cycle, and about the different responses to tackle disinformation – based on good practices and lessons learned on various continent, and in using tools such as artificial intelligence.
Module 4 – Focus on preventive measures to tackle harmful practices
(October 10 – 16, 2022)  
In this module we will start examining some of the preventive measures available to electoral stakeholders to tackle disinformation, misinformation and malinformation during electoral processes in relation to the electoral cycle: such as capacity building; promotion of dialogue and social cohesion; public information campaigns; and media information literacy. It will also cover emerging regulatory attempts to prevent harmful content from spreading online during elections.  
Module 5 – Multi-stakeholder engagement and corrective measures to contribute to a transparent and inclusive online ecosystem
(October 17 – 23, 2022)
In this module we will continue addressing the different ways to tackle harmful practices during elections through a multi-stakeholder engagement for the identification, fact-checking and monitoring measures; corrective measures; or containing corrective measures and regulatory and non-regulatory measures. Such measures help contribute to a transparent and inclusive online ecosystem.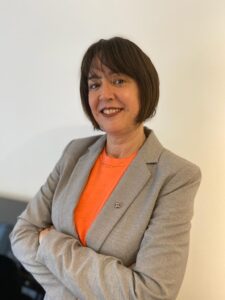 Albertina Piterbarg is an Electoral Expert and journalist working at UNESCO Freedom of Expression and Security of Journalists section. She has more than 20 years of experience working in the areas of communications, elections and women's political participation in the Organization of the American States (OAS), UN Peacekeeping Operations, UNDP, UN Women and most recently, UNESCO ranging from head of office, team leader, field officer, government advisor, independent consultant, and certified BRIDGE trainer. She has participated in several missions in Niger, Ivory Coast, Tunisia, Libya, East-Timor, New Caledonia, Mexico, Bolivia, Colombia, Ecuador, Dominican Republic and Venezuela among others. She studied Philosophy and Literature in the University of Buenos Aires in Argentina and a master's in Journalism in Saint Andrews University of Argentina, where she was bestowed with the Outstanding University Graduate award 2018.
This course is for all electoral practitioners and electoral key stakeholders: Electoral Management Bodies (EMBs), Audiovisual Regulatory Bodies (ARBs), Human Rights and Women Rights Civil Society Organization (CSOs), national and international electoral observers, political actors, academia and fact-checking organizations. It is also directed to media workers, media representatives and journalists, including community media and citizen journalists.
No special tools or applications are required for this course.
First of all, note that this is an asynchronous course. That means there are no live events scheduled at specific times. You can log in to the course and complete activities throughout the week at your own pace, at the times and on the days that are most convenient for you.
Despite its asynchronous nature, there are still structures in place for the duration of the course.
The material is organized into five weekly modules. Each module will be introduced by the electoral expert at UNESCO, Albertina Piterbarg, and several specialists in UNDP. Each module will cover a different topic through videos of experienced practitioners and organizations presenting their understanding and experiences with the subject. It will also include readings and discussion forums. There will be a quiz each week to test the knowledge you've gained through the course materials. The weekly quizzes, and weekly participation in the discussion forums, are the basic requirements for earning a certificate of participation at the end of the course.
This course is very flexible, and if you are behind with the materials, you have the entire length of the course to complete them. We do recommend you complete each of the following before the end of each week, so you don't fall behind:
Video lectures and experts' presentations
Readings and handouts
Participation in the discussion forums
Quizzes covering concepts from video lectures and/or readings
A little more about the certificate of completion:
For this course, we are waiving our typical $30 fee and offering the certificate for free for those who meet all of the course requirements. There's no form to apply for the certificate of completion. At the end of the course, the Knight Center team will verify all students and all activities required to qualify for the certificate of completion.
After verifying that students have met the course requirements, the Knight Center will send a message to your email confirming that you have met the requirements and are eligible for the certificate. You'll receive instructions via the course platform's messaging system to download a PDF copy of your certificate. The certificate is only available in PDF format.
To be eligible for a certificate of completion, students must:
Listen to the weekly video classes and read the weekly readings
Complete weekly quizzes with a minimum score of 70%. (You can retake the quizzes as many times as needed. Only the highest score will be recorded.)
Create OR reply to at least one discussion forum each week.
The certificate of completion is not required in order to take the course; students can still take our free online course without purchasing the certificate. No formal course credit of any kind is associated with the certificate.
The certificate is awarded by the Knight Center for Journalism in the Americas to attest to the participation in the online course.