Registering in the platform is easy. Please follow these steps:
Create an account in the Journalism Courses system. Even if you've taken a course with us before, you may need to create a new account. Check to see if your previous username and password work before creating a new account.
Wait for a confirmation in your email indicating that your account has been created. If you do not receive this, please check your spam folder.
Log into the platform, scroll down until you see the course listings, and click on the "How to report safely: Strategies for women journalists and their allies" course.
A button will appear. Click "Enroll" to enroll yourself in the course. You will be able to access the course from the "My Courses" menu at the top of the page.
You will receive an email confirming your enrollment.
Please add the email addresses journalismcourses@austin.utexas.edu and filipa.rodrigues@utexas.edu  to your address book to ensure you receive emails about the course.
For the next four weeks, you will learn frameworks to mitigate and manage associated risks for all women (cis, trans and femmes) and allies. You will be provided with tools to create your own personal safety plan as well as manage and mitigate associated risks in the field.
Upon completion of this course you will be able to:
Understand some of the risks, specifically those that women journalists face.
Identity and manage risks using the risk assessment process.
Create a better understanding of situational awareness and personal safety.
Develop strategies to support yourself if you face harassment or sexual violence.
Understand the consequences and support for those who face harassment and sexual violence.
Develop pre- and post-assignment emotional preparation strategies.
Introduction Module: Course Description
During this introductory module you will be able to watch our welcome video where you will find out information about your instructor and the topics she will cover over the coming weeks. You can also check out our reading materials to learn more about the global threats that women journalists face, and the effects they can have.
Module 1: Introduction to safety planning for journalists 
(May 3 - 9, 2021)
In this module, we will focus on how to develop a risk assessment and a communication strategy. We will look at the considerations needed to create a realistic and workable plan to share with your editor or newsroom security manager, as well as advice for freelancers working for multiple outlets. How we communicate in the field is an essential component to our safety, as is having a working safety plan in place.
This module will cover:
Risk assessments
Creating a basic communication plan
Q&A with Tanya Warnakulasuriya, a safety expert based in Sri Lanka
Module 2: Situational awareness and personal safety
(May 10 - 16, 2021)
As we head out on assignment it's important to also consider our own strategies for safety in the field, as we often work in fast-paced and changing environments. In this module we'll take a personal approach to how we mitigate risk in the field, and we'll explore other factors such as kit and equipment we need to protect ourselves.
This module will cover:
Kit and personal protective equipment
Understanding how situational awareness affects our personal safety
Travel and location safety
Module 3: Harassment and gender-based violence
(May 17 - 23, 2021)
Here we will focus on a selection of threats that journalists, especially women, face while reporting. We will share some strategies on how to be prepared in the field and how to support and be an ally to someone who is experiencing or has experienced harassment.
This module will cover:
An understanding of the types of physical harassment and gender-based violence, including sexual violence
Support for those experiencing harassment and how to support as an ally
Reporting, signposting and after care
A Q&A with Kristen Chick, a freelance journalist focused on gender, conflict, and migration
Module 4: Self care and mental wellbeing
(May 24 - 30, 2021)
We often face challenging situations as journalists, and this module will focus on some simple strategies to create a peer support network and share information on support services for working women journalists.
This module will cover:
A basic understanding of our emotional wellbeing both pre- and post-assignment
How to create a self-care plan
A conversation with a mental health expert in understanding the effects of trauma on our physical and mental wellbeing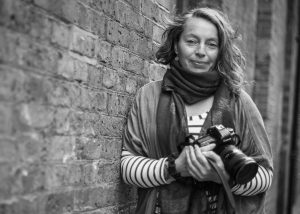 Alison Baskerville is a documentary photographer and personal safety trainer based in Birmingham, UK. A former-soldier-turned-photographer, Alison is able to blend her military experience with her career as a conflict photographer to translate into realistic safety training for the media community. As a photographer she uses her experience to comment on, document and question the military experience that aims to make work reflecting on important contemporary issues such as social inequality, military occupation, gender identity and safety as well as the long-term consequences of emotional trauma through conflict. Alison is also the founder of ROAAAR - an inclusive safety training organization as well as the Program Lead on the current Next Gen Safety Training Program with the International Women's Media Foundation (IWMF). If you want to learn more about Alison's work you can check out her website www.alisonbaskerville.co.uk or follow her on Twitter @AliBaskerville.
This course is open to anyone interested in how to plan and mitigate risks for women journalists - cis, trans or femmes who are interested in improving their knowledge on the basics of personal safety from a global perspective in the field of journalism.
This course requires you to have access to the Internet and a web browser.
First of all, note that this is an asynchronous course. That means there are no live events scheduled at specific times. You can log in to the course and complete activities throughout the week at your own pace, at the times and on the days that are most convenient for you.
Despite its asynchronous nature, there are still structures in place for the duration of the course.
The material is organized into four weekly modules. Each module will be taught by Alison Baskerville and will cover a different topic through videos, presentations, readings and discussion forums. There will be a quiz each week to test the knowledge you've gained through the course materials. The weekly quizzes, and weekly participation in the discussion forums, are the basic requirements for earning a certificate of participation at the end of the course.
This course is very flexible, and if you are behind with the materials, you have the entire length of the course to complete them. We do recommend you complete each of the following before the end of each week so you don't fall behind:
Video lectures
Readings and handouts/exercises
Participation in the discussion forums
Quizzes covering concepts from video lectures and/or readings
A certificate of completion is available for those who meet all of the course requirements, and pay online an administrative fee of $30 (thirty U.S. dollars), using a credit card. After confirmation of course requirements, the Knight Center will send a message with confirmation that you fulfilled the course requirements and qualify for the certificate. The message will also include all the steps and instructions to pay the certificate fee using a credit card. Once your payment has been confirmed you will receive an email with instructions on how to download the certificate.
To be eligible for a certificate of completion, you must:
Watch the weekly video classes and read the weekly readings
Complete weekly quizzes with a 70% minimum score. (You can retake the quizzes as many times as needed. Only the highest score will be recorded.)
Create OR reply to at least one discussion forum each week
The certificate of completion is not required in order to take the course. Students can still take our free online course without purchasing the certificate. No formal course credit of any kind is associated with the certificate.
The certificate is awarded by the Knight Center for Journalism in the Americas to attest to the participation in the online course.