Elija entre las siguientes opciones
Registering in the platform is easy. Please follow these steps:
Create an account in the Journalism Courses system. Even if you've taken a course with us before, you may need to create a new account. Check to see if your previous username and password work before creating a new account.
Wait for a confirmation in your email indicating that your account has been created. If you do not receive this, please check your spam folder.
Log into the platform, scroll down until you see the course listings, and click on the Going live: Building live journalism in your newsroom course.
A button will appear. Click "Enroll" to enroll yourself in the course. You will be able to access the course from the "My Courses" menu at the top of the page.
You will receive an email confirming your enrollment.
Please add the email addresses journalismcourses@austin.utexas.edu and filipa.rodrigues@utexas.edu  to your address book to ensure you receive emails about the course.
In this course you will learn: 
Virtual event formats that leverage video and audio, and engage audiences 

The differences and opportunities for newsmaker events and community events 

How to best tap into your newsroom and leverage coverage from event content 

How to best prepare to deliver a compelling session
Upon completion of this course you will be able to:
Identify coverage areas and franchises that could translate to impactful live journalism products 

Understand the array of virtual formats for live journalism events 

Master tips and best practices for delivering a top-tier newsmaking live conversation 
Introduction Module: What is Live Journalism? 
How do you build a successful live journalism department in your newsroom? Spanning beyond conferences, live journalism is an opportunity to build news-generating moments in real time in front of a live audience. Live journalism events tap the unique opportunity to build community amongst readers and a pipeline of new audiences. 
This module will cover:
What is live journalism? 

How to use live journalism to build loyalty with new audiences and current subscribers 

A preview of how to resource your team, identify franchises that matter, deliver dynamic interviews and experiment with new formats 
Module 1: Embracing Virtual Formats (February 14 - 20, 2022)
In this module, you'll learn how to best leverage virtual formats for your audience at a time when the pandemic has reshaped how media organizations approach live events.
This module will cover:
Components of a successful virtual event

Audience development 

Formats

How to move beyond the webinar and embrace TV 

Leveraging video - what works, what doesn't 

Video as a tool for contextualization 

Video as a way to differentiate your live journalism event 

Video as a format to show, not just tell 

Video to build momentum toward new audiences  

How to build audience interaction in real time and ahead of an event 

Pre-recorded questions 

Audience call-outs 

Incorporating interactive formats like town halls and debates 
Module 2: Designing Your News Event: Service Versus News (February 21 - 27, 2022) 
Not all news events are designed the same. This module will examine the building of newsmaker events versus events that serve community interests, offering tips for how to best leverage your newsroom's strengths and your audience's interests. 
This module will cover: 
Community versus newsmaking events 

Differences and opportunities 

Evergreen events versus news moments 

Identifying key moments in the news cycle to serve readers 

Designing interactive programs for both 

Standards and ethics 

Maintaining journalistic independence 

Separation of sponsors from the news program 

Incorporating transparency 

Drawing inspiration 

Case study / interview on virtual festival models
Module 3: Tapping into Coverage (February 28 - March 6, 2022) 
Learn how to best leverage content stemming from a news event. In this module, we will discuss what makes a robust coverage plan. 
This module will cover:
Building robust coverage plans 

Ways to engage audience members pre- and post-event 

Leveraging newsletters 

Utilizing video clips

Building podcast opportunities 

Distribution - On platform v  external 

Social media (ex YouTube, Twitter, Instagram, WeChat, DouYu, Discord)  

Streaming 

Leveraging transcripts and sound bites 
Module 4: Acing Your Performance (March 7 - 13, 2022)
Live journalism does require journalists to "perform," whether that is on stage in front of a live audience or in front of a camera, streaming to hundreds or thousands. We will break down multiple methods for interview and session preparation. 
This module will cover:
Research methods to deliver your best live interview

Research — becoming an expert in your subject and how they answer questions 

Podcasts, reviewing past interviews 

Designing sessions to move beyond talking points 

Working through stage fright 

Writing short, clear questions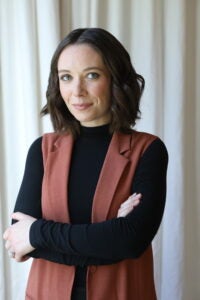 Kim Last is the head of live journalism and special content for The Wall Street Journal, serving as the top editor for live and virtual events organized by the newsroom. In her current role, Ms. Last oversees the team of journalists who shape the ideas, source the speakers and shepherd the subsequent news coverage that stem from Journal events. Ms. Last joined the Journal more nearly four years ago as deputy editor on the live journalism team where she expanded the popular Future of Everything Series, serving as its editorial director. Prior to joining the Journal, she led conference development at Vox Media, working alongside the Recode and Vox.com teams. Ms. Last also worked as a senior editor at Fast Company where she launched the inaugural Fast Company Innovation Festival and led special projects across print and video. A native New Yorker, Ms. Last studied political science and American studies at Washington College in Chestertown, Maryland. She lives in Brooklyn, NY with her husband and miniature poodle.
This course is for journalists, newsroom leaders, and product managers who are interested in live events and aim to launch a live journalism project in their newsroom. 
No special tools or applications are required.
First of all, note that this is an asynchronous course. That means there are no live events scheduled at specific times. You can log in to the course and complete activities throughout the week at your own pace, at the times and on the days that are most convenient for you.
Despite its asynchronous nature, there are still structures in place for the duration of the course.
The material is organized into four weekly modules. Each module will be taught by Kim Last and will cover a different topic through videos, presentations, readings and discussion forums. There will be a quiz each week to test the knowledge you've gained through the course materials. The weekly quizzes, and weekly participation in the discussion forums, are the basic requirements for earning a certificate of participation at the end of the course.
This course is very flexible, and if you are behind with the materials, you have the entire length of the course to complete them. We do recommend you complete each of the following before the end of each week so you don't fall behind:
Video lectures

Readings and handouts/exercises

Participation in the discussion forums

Quizzes covering concepts from video lectures and/or readings
A certificate of completion is available for those who meet all of the course requirements, and pay online an administrative fee of $30 (thirty U.S. dollars), using a credit card. After confirmation of course requirements, the Knight Center will send a message with confirmation that you fulfilled the course requirements and qualify for the certificate. The message will also include all the steps and instructions to pay the certificate fee using a credit card. Once your payment has been confirmed you will receive an email with instructions on how to download the certificate.
To be eligible for a certificate of completion, you must:
Watch the weekly video classes and read the weekly readings
Complete weekly quizzes with a 70% minimum score. (You can retake the quizzes as many times as needed. Only the highest score will be recorded.)
Create OR reply to at least one discussion forum each week
The certificate of completion is not required in order to take the course. Students can still take our free online course without purchasing the certificate. No formal course credit of any kind is associated with the certificate.
The certificate is awarded by the Knight Center for Journalism in the Americas to attest to the participation in the online course.