Choose from the options below
Registering in the platform is easy. Please follow these steps:
Create an account in the Journalism Courses system. Even if you've taken a course with us before, you may need to create a new account. Check to see if your previous username and password work before creating a new account.
Wait for a confirmation in your email indicating that your account has been created. If you do not receive this, please check your spam folder.
Log into the platform, scroll down until you see the course listings, and click on the "The Power of Digital Audio Storytelling: From podcasts to voice assistants" course.
A button will appear. Click "Enroll" to enroll yourself in the course. You will be able to access the course from the "My Courses" menu at the top of the page.
You will receive an email confirming your enrollment.
Please add the email addresses journalismcourses@austin.utexas.edu and filipa.rodrigues@utexas.edu to your address book to ensure you receive emails about the course.
In this course you will gain an understanding why one of the oldest storytelling forms is having a renaissance thanks to technological change.
Upon completion of this course, you will:
Gain an appreciation of the legacy and power of audio
Know the fundamental elements of audio storytelling
Become familiar with how technological innovation has changed the business of audio storytelling
Be prepared to develop a distribution plan for your audio work
Introduction Module: Course description

In the introductory module, you will get an overview of the course structure and meet the instructor.
Module 1: Why audio, why now?
We look at the reasons audio storytelling has been able to endure.
This module will cover:
Why audio
The enduring power of audio
Technology shifts and new opportunities
A lean back medium adapts to a lean forward world
A conversation about how audio storytelling has persisted with Julie Shapiro, Executive Producer Radiotopia from PRX
Module 2: Fundamentals of great audio storytelling is the key to the future
We break down the fundamentals of great storytelling - fundamentals that endure regardless of the technological platform.
This module will cover:
Emotion and the heart of audio storytelling
Writing for the ear
Audience of 1
Sound design practitioner interview with Ramtin Arablouei, co-producer and co-host, Throughline
Making the transition from print to audio with practitioner interview Hannah Allam, correspondent, NPR
Module 3: The podcasting (r)evolution
Podcasting has changed the game in how audio is produced, consumed, & thought of.
This module will cover:
How podcasting injected new life into audio
From basements to big business with guest interview with Nick Quah founder of the podcasting newsletter Hot Pod
From quirky guys in a garage to daily news. Guest interview with Samantha Henig, formerly New York Times now Buzzfeed News
Module 4: Big tech embraces the oldest communication form
Technology has opened up the opportunities for audio storytelling.
This module will cover:
How audio is encountered on listening platforms from linear to on demand and algorithms in between
Voice assistants and interactive audio storytelling practitioner interview with Nicky Birch, Commissioning Exec BBC Voice + AI
Voice platform adoption internationally, interview with Ezra Eeman from European Broadcasters Union
Your platform or mine? How will you get your audio to audiences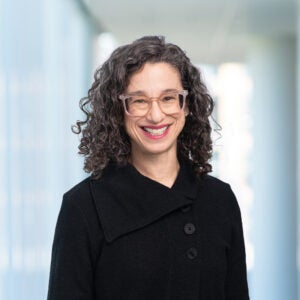 Tamar Charney is a Senior Editorial Director at National Public Radio (NPR) working on editorial strategy for emerging platforms such as apps and smart speakers including NPR's state of the art personalized listening app called NPR One. Charney was an executive creator of NPR's Coronavirus Daily which was the network's fastest growing podcast to date. She's an award winning journalist who has written countless radio reports and documentaries.
Prior to joining NPR in 2016, Charney was the Program Director at Michigan Radio where she managed on-air, online, news strategy, and operations. Before that she created and produced talk shows, documentaries, and news programs. She started at Michigan Radio in the late 1990's as a newscaster, reporter, and editor. She has held a variety of jobs at other public radio stations including WDET and WEMU. She served as the board chair of the Public Radio Program Directors association from 2014 - 2017.
On the side, Charney is a writer, photographer, and voiceover artist. Her photography and creative writing have been published by Midwestern Gothic, Michigan Quarterly Review, Equus Magazine, and other outlets. In late 2019 she mounted a solo photography exhibition Through a Russian Lens at the Argus Museum in Ann Arbor.
Charney holds a master's degree in telecommunications specializing in social effects of new media from Michigan State University and a BA from University of Michigan. She was the lead author on the chapter Uses and Gratifications of the Internet in Lin, C & Atkin, D.(Eds.) Communication Technology and Society (pp. 379-408.)
Before the pandemic, she gave talks and presentations at industry conferences worldwide about the confluence of technology and journalism.
This course is open to journalists, aspiring journalists, writers, podcasters, and storytellers interested in deepening their understanding of the increasing opportunities audio storytelling presents for reaching audiences.
This course only requires you to have access to an Internet connection and a web browser.
Our MOOC is an asynchronous course. That means there are no live events scheduled at specific times. You can log in to the course and complete activities throughout the week at your own pace, at the times and on the days that are most convenient for you.
Despite its asynchronous nature, there are still structures in place for the duration of the course.
The material is organized into four weekly modules. Each module will be taught by Tamar Charney and will cover a different topic through videos, presentations, readings and discussion forums. There will be a quiz each week to test the knowledge you've gained through the course materials.
The weekly quizzes, and weekly participation in the discussion forums, are the basic requirements for earning a certificate of participation at the end of the course. A certificate of completion is available for those who meet all of the course requirements, and pay online an administrative fee of $30 (thirty U.S. dollars). The certificate of completion is awarded by the Knight Center for Journalism in the Americas to attest to the participation in the online course.
This course is very flexible, and if you are behind with the materials, you have the entire length of the course to complete them. We recommend that you complete each of the following before the end of each week so you don't fall behind:
Video lectures
Readings and handouts/exercises
Participation in the discussion forums
Quizzes covering concepts from video lectures and/or readings
A certificate of completion is available for those who meet all of the course requirements, and pay online an administrative fee of $30 (thirty U.S. dollars), using a credit card. After confirmation of course requirements, the Knight Center will send a message with confirmation that you fulfilled the course requirements and qualify for the certificate. The message will also include all the steps and instructions to pay the certificate fee using a credit card. Once your payment has been confirmed you will receive an email with instructions on how to download the certificate.
To be eligible for a certificate of completion, you must:
Watch the weekly video classes and read the weekly readings
Complete weekly quizzes with a 70% minimum score. (You can retake the quizzes as many times as needed. Only the highest score will be recorded.)
Create OR reply to at least one discussion forum each week
The verification process will take three to five business days. The certificate of completion is not required in order to take the course. Students can still take our free online course without purchasing the certificate. No formal course credit of any kind is associated with the certificate.
The certificate is awarded by the Knight Center for Journalism in the Americas to attest to the participation in the online course.