This self-directed course features course content from the Knight Center for Journalism in the Americas massive open online course (MOOC) titled "Product strategies for journalism: How to align editorial, audience, business and technology ." The four-week course took place from August 23 - September 19, 2021.
This course was organized by the Knight Center for Journalism in the Americas, in partnership with News Product Alliance, with support from Google News Initiative.

The course was taught by Adriana Lacy, an audience strategist and adjunct professor of journalism at the University of Southern California. She created and curated the content for the course, which includes video classes, readings, exercises, and more.
 The course materials are broken into four modules, along with an introductory module:
We encourage you to watch the videos, review the readings, and complete the exercises as time allows. The course materials build off each other, but the videos and readings also act as standalone resources that you can return to overtime.
We hope you enjoy the materials. If you have any questions, please contact us at journalismcourses@austin.utexas.edu.
Meet the Instructor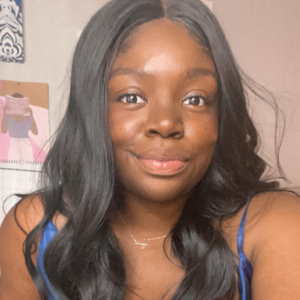 Adriana Lacy is a freelance journalist focused on audience engagement, social media platforms, and technology. She is an adjunct professor of journalism at the University of Southern California, where she teaches product management and metrics, audience engagement, and best practices on engaging diverse communities.
She previously worked as an audience engagement editor at Axios and the Los Angeles Times, and as an audience news assistant at The New York Times. She is currently a graduate student in the digital audience strategy program at Arizona State University. You can follow her on Twitter @adriana_lacy.
What is a product?
We'll differentiate project development from product development and show that the product mindset and agile principles can be used in everyday newsroom activities.
In this module, you will learn:
- What is and what is not a product
- Why product and project development requires a completely different work approach
- See the characteristics inherent to journalism that are fundamental in product development
- Product Mindset: You may already have it and don't even know it
- What are the agile principles and why, once you know it, you won't be able to live without it
- Hear from Brittany Hite, a project manager at the Los Angeles Times on how to bring your project from conception to completion
Video Classes
Readings
From problem to solution – and never the other way around
We will trace the paths of product discovery: identify the people and problems of those who will use (and pay) for the product, build hypotheses and design the solution.
This module will cover:
- User space: define the persona and get to know it well through user research techniques
- Problem space: discover, understand and validate the problem we are going to solve
- Solution space: discover, understand and validate the solution we are going to propose to solve the problem
- Completing the lean canvas
- Hear from Nia Johnson, a product manager at Axios about her career path and life as a product manager
Video Classes
1. Intro to product discovery and user personas
2. Persona Walkthrough
3. Interview with Nia Johnson - Product manager at Axios
Readings
Vision, strategy and product roadmap
We'll show you how to create a vision, strategy, and roadmap for your products, and we'll address the importance of communicating them inside and outside your organization.
This module will cover:
- What is the product vision and why defining it well is as important as communicating it properly
- Stakeholders buy in: the importance of aligning product and company strategies and conquering allies
- Exercising writing the product vision statement and filling out the product vision board
- What is the product strategy and how does it differ from the product vision
- The roadmap as a communication tool that shows where we are and where we want to go
- Prioritization techniques to contain the urge to do everything at once
- Hear from Genesia Ting, a user experience designer and former creative technologist at the Los Angeles Times
Video Classes
1. Product vision and stakeholder buy-in
2. Product Roadmap
3. Interview with Genesia Ting — User Experience
4. Interview with Genesia Ting — Roadmapping
Readings
Construction and feedback
With the persona known, the problem and solution clearly delineated, and the vision defined, we'll show you how to deliver the right product from a prototyping mindset and short feedback loops.
This module will cover:
- The MVP
- The importance of focusing on delivering value in 'small pieces'
- Build, deliver, measure, and improve: creating a constant feedback loop
- Experimentation examples
Video Classes
Readings