Choose from the options below
Registering on the platform is easy. Please follow these steps:
1) Create an account in the Journalism Courses system. Even if you've taken a course with us before, you may need to create a new account if your original account has been inactive.
2) Wait for a confirmation in your email indicating that your account has been created. If you do not receive this, please check your spam folder.
3) Pay the $95 registration fee. Click here to pay. The payment must be made only by those who already have an account in the Journalism Courses system. The username and email you used in the system will be required when you complete payment.
Unlike most Knight Center courses, which are free, this Big Online Course (BOC) will provide a more advanced level of training and will be limited to a few hundred students, allowing for greater interaction between the students and instructor.
Once you pay the $95 course fee, you will receive a payment receipt but you will not automatically be enrolled in the course. It may take up to 72 hours for the Knight Center to enroll you. Once enrolled, you will receive an enrollment confirmation email with details on how to access the introductory module of the course. Please add the email addresses journalismcourses@austin.utexas.edu and filipa.rodrigues@utexas.edu to your address book to ensure you receive emails about the course.
Through hands-on tutorials over the next four weeks, we want to make you a better data journalist who can use a few free tools and specific techniques to make maps that help you understand your data and illustrate your stories. We will use real-world datasets along with a dataset of your own choosing.
Provide clear, direct, repeatable steps to make and present data-driven maps you can use to power your journalism for years to come. You will finish this class with the ability to:
Understand the basic principles of mapmaking and fueling maps with data
Spot stories that would benefit from data maps — and those that probably wouldn't
Quickly make draft maps to see the data you have
Polish static maps for embedding into your stories
Turn your maps into "slippy maps" your audience manipulate
Create a system to quickly regenerate and republish your previous maps with fresh data
Introduction Module: Getting set up with the class data, and a guide to finding your own
We'll start by exploring the power of maps for storytelling, investigations, and data visualization with a tour of some of the most important maps of our time and a few that instructor John Keefe has helped build for CNN and The New York Times. Then we'll get you prepared for the course by introducing you to the services and data we'll use for this class. We'll also help you to find and explore your own data — maybe a dataset you're working on for a project, something you've always wanted to investigate, or a topic that interests you. The exercises and discussions throughout the course will encourage you to try these techniques on your own datasets.
This module will cover:
A quick overview of the lessons
Getting set up with the services we'll be using
A guide to the example data and how to get it
Tips on how to use (and find) your own data
Module 1: Marrying your data to shapes on the planet with Datawrapper
We'll kick off the class by making several colorful, website-ready data maps with Datawrapper — and in the process, learn the basic steps necessary to start any mapping project.
This module will cover:
The essentials for preparing your data to map
Marrying values (like income or covid cases) to shapes (like districts or countries)
Building shape maps (choropleth maps) in Datawrapper
Sharing maps with colleagues or publishing them online
Module 2: A deeper dive into mapping principles
Mapping data can quickly become tricky, since governments and other sources use a variety of file formats and data structures. But a little knowledge can go a long way to help you navigate those issues. We'll also talk about ethical and data-privacy issues when using and displaying location data about people and groups.
This module will cover:
A survey of powerful maps in journalism
Peering into those "shapes" from Module 1 to see how they are built
Finding and recognizing the various formats of geographic data
Using free tools to explore and convert geographic files
Issues to consider around mapping ethics and data privacy
When and how to seek help
Module 3: Making and publishing interactive maps with Mapbox
You've seen maps online, where you can zoom in, pan around, and even enter an address to "fly" to that location. Now you'll make some! We'll introduce you to Mapbox, a platform that provides software and pre-made "base" maps on which you can place shapes, routes, labels, and locator-points.
This module will cover:
Building interactive maps with Mapbox and Glitch
Working with premade "base maps" of roads, features, and terrain
Exploring more data formats, including routes and points
Layering your data above and below other map labels
Publishing your maps online
Module 4: Making repeatable maps with fresh data using Mapshaper
The Covid-19 pandemic has shown the importance of regularly-updated maps — including cases, vaccination rates, and deaths. I'll show you how to create a computer program that makes a fresh map, with fresh data, just by typing "make map." We'll do it using the free and powerful "Mapshaper" tool, and also take a peek at how to build some more advanced maps with Mapshaper.
This module will cover:
Making data maps on the command line with Mapshaper
Using Mapshaper to solve many of your data-mapping challenges
Using "makefiles" to automate your mapmaking
Making SVGs you can use in Illustrator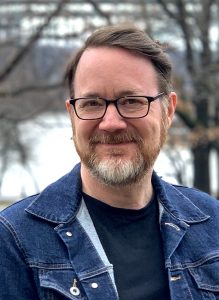 John Keefe is the senior data and visuals editor for breaking news climate at CNN. He previously had that role making maps and graphics on the CNN Climate Team. Before joining CNN, he helped with election and Pulitzer prize-winning coronavirus coverage as a graphics/multimedia editor at the New York Times. Before the pandemic began, he was the investigations editor at Quartz and also led the Quartz AI Studio. Keefe established the Data News Team at public radio station WNYC, leading a team of journalists who specialized in data reporting, coding, and design. He ran WNYC's news division for nearly a decade.
A self-described "professional beginner," Keefe runs a tinkering and teaching company called Really Good Smarts LLC. Keefe has taught classes about online investigations, data journalism, machine learning, and journalism products at the Craig Newmark Graduate School of Journalism at CUNY. Keefe also has led classes and workshops at Columbia University, Stanford University, the New School University, New York University, the Knight Center for Journalism in the Americas, and was an Innovator in Residence at West Virginia University's Reed College of Media. Keefe blogs at johnkeefe.net and tweets as @jkeefe.
This course is for journalists who want to add powerful data-mapping skills to their reporting, making it easier to analyze geographical data and to turn that data into maps for your stories. It's also for novice data journalists who want to up their game.
We'll assume a basic familiarity with spreadsheets, such as Excel or Google Sheets, and exporting data into "CSV" or "comma-separated values" files. No coding experience is necessary.
Class videos allow you to try the hands-on activities at your own pace, pausing or repeating the instruction as you go. In addition to the videos, you can expect to spend another hour per week on the exercises — or longer if you'd like! — practicing the steps and trying them with your own data.
You will need a computer with an internet connection and a web browser. The computer should be a laptop or desktop running a common operating system such as Mac OS, Windows, or Linux. Mobile devices such as phones and tablets, are not recommended, as it may be difficult to complete the hands-on portions of the class. We won't have the resources to troubleshoot problems on these devices.
We will use the free features of these services you should sign up for before the class begins:
Glitch, a tool for running data projects and websites online. You can create a login with your email address (click "Email Magic Link") or use your Facebook, Github, or Google account.
Datawrapper, a charting and mapping tool. You can create an account or use your Github, Google, Microsoft, or Twitter accounts.
Mapbox, a platform for creating maps online (and also for phone apps).
We'll also use Mapshaper, a free, powerful tool made by Matthew Bloch of the New York Times (no signup necessary).
First of all, note that this is an asynchronous course. That means there are no live classes scheduled at specific times. You can log in to the course and complete activities throughout the week at your own pace, at the times and on the days that are most convenient for you.
Despite its asynchronous nature, there are still structures in place for the duration of the course.
The material is organized into four weekly modules. Each module will be taught by John Keefe and will cover a different topic through videos, presentations, readings and discussion forums. There will be a quiz each week to test the knowledge you've gained through the course materials. The weekly quizzes, and weekly participation in the discussion forums, are the basic requirements for earning a certificate of participation at the end of the course.
This course is very flexible, and if you are behind with the materials, you have the entire length of the course to complete them. We do recommend you complete each of the following before the end of each week so you don't fall behind:
Video lectures
Readings and handouts/exercises
Participation in the discussion forums
Quizzes covering concepts from video lectures and/or readings
A certificate of completion is available for those who pay the $95 course fee and meet all of the course requirements. After verifying that these requirements have been met, the Knight Center will send a confirmation message with instructions on how to download the certificate. To be eligible for a certificate, you must:
Watch the weekly video classes and read the weekly readings
Complete weekly quizzes with a 70% minimum score. (You can retake the quizzes as many times as needed. Only the highest score will be recorded.)
Create OR reply to at least one discussion forum each week
The certificate of completion is included in the $95 course fee. No formal course credit of any kind is associated with the certificate. The certificate is awarded by the Knight Center for Journalism in the Americas to attest to the participation in the online course.