'The Power of Digital Audio Storytelling:' Sign up for free online course for journalists on podcasts and voice assistants
"Approximately 169 million Americans listened to online audio in the last week, spending an average of over 15 hours doing so," according to the 2020 Infinite Dial report. Additionally, more than six in 10 people in the U.S. use some kind of voice assistant technology.
And this is not an American phenomenon. It's happening in many countries.
Journalists and storytellers can no longer afford to ignore audio if they want to make sure their work is reaching the largest audiences possible. That's why the Knight Center for Journalism in the Americas is offering a new audio storytelling course through its online learning platform, JournalismCourses.org.
"The Power of Digital Audio Storytelling: From Podcasts to Voice Assistants" is a four-week course that runs from Oct. 26 to Nov. 29, presented for free thanks to support from Knight Foundation.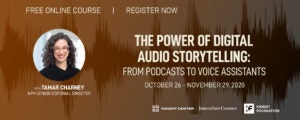 "It's important to recognize that audio isn't just a niche thing anymore, it's really a mainstream way that people are actually getting their news and taking in information and stories," said course instructor Tamar Charney, senior editorial director at NPR, the largest public radio network in the U.S.. "If you're a journalist, if you're a storyteller, this is a form of storytelling that you need to at least have some familiarity with, even if it isn't 100% what you do."
These days, chances are good that the publication you work for will call on you to turn your reporting into a podcast or that you get a request for an interview with another media outlet. Knowing how audio storytelling works will help you bring your work to bigger audiences.
The course is divided into four weekly modules covering everything from the enduring power of audio to new technological advances in the storytelling format. The modules are as follows:
Week one

is an introduction to audio storytelling and new opportunities in the format afforded by technology.

Week two

covers the fundamentals of audio storytelling and how to write for the format.

Week three

looks at how audio storytelling was transformed by podcasting.

Week four

teaches about different listening platforms, including voice assistants, and gives an overview of how to distribute your audio to audiences.
Charney emphasized that audio brings intimacy, emotion and authenticity to stories in ways that helps listeners connect to stories.
"You really are almost in a one-to-one conversation with somebody, and that's really powerful," Charney said. 
Also, "it really conveys emotion really well. You can describe how somebody's feeling in print, but there's nothing like actually hearing the anger in somebody's voice, or the surprise when they discovered something or even just the affection somebody might have for a person they're encountering."
Charney is senior editorial director at NPR working on editorial strategy for emerging platforms, such as apps and smart speakers. This includes NPR's personalized listening app, NPR One. She was executive creator of NPR's Coronavirus Daily, its fastest growing podcast to date. She previously worked at Michigan Radio, holding the roles of program director, producer, newscaster, reporter and editor. She also worked at public radio stations WDET and WEMU and was board chair of the Public Radio Program Directors Association (2014-2017). Additionally, Charney is a writer, photographer and voiceover artist.
"We're excited to be offering this course, which will explore podcasting, voice assistants, the fundamentals of great audio storytelling, and much more," said Mallary Tenore, associate director of the Knight Center for Journalism in the Americas. "It's a privilege to have Tamar Charney, a leading expert in audio storytelling, as the instructor for this important course. The course materials she has created will be applicable to a wide range of students, from novice audio storytellers to experts in the field."
As part of the course, Charney will interview other industry leaders, including Julie Shapiro, executive producer for Radiotopia from PRX; Ramtin Arablouei, co-producer and co-host of  Throughline; Hannah Allam, correspondent at NPR; Nick Quah, founder of the podcasting newsletter Hot Pod; Samantha Henig, executive editor of strategy at BuzzFeed News; Nicky Birch, commissioning executive at BBC Voice + AI; and Ezra Eeman, head of digital at the European Broadcasters Union.
"I started really thinking about who does work in that area and has an interesting story to tell about that work," Charney said, adding that she also looked for diverse and authentic voices in the industry.
Like all Knight Center courses, this MOOC is asynchronous, meaning you can complete the activities during the days and times that best suit your schedule. However, there are recommended deadlines so you don't fall behind.
Charney will teach the course through videos, presentations, readings, discussion forums and quizzes. 
Students who successfully complete the weekly quizzes and participate in the discussion forums are eligible to earn a certificate of participation at the end of the course. The administrative fee for the certificate is $30 (thirty U.S. dollars). It is awarded by the Knight Center for Journalism in the Americas and attests to participation in the course. No formal course credit of any kind is associated with the certificate.