Massively popular product strategies course now available in self-directed version to take in English, Spanish or Portuguese
A free online course on product development for journalists is now available to take at any time from anywhere in the world in three different languages!
"Product Strategies for Journalism: How to align editorial, audience, business and technology" is available as a self-directed course in English, Spanish and Portuguese on the JournalismCourses.org online learning platform!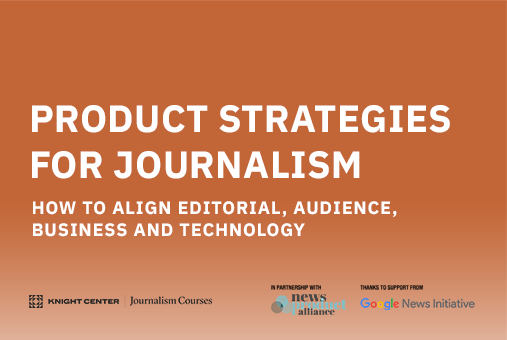 Students will learn tools and concepts to create and maintain sustainable information products.
Course topics include using a product mindset, identifying your audience, creating a product roadmap, delivering a final product, and more.
This course on product thinking was first offered as a Massive Open Online Course (MOOC) from the Knight Center for Journalism in the Americas, in partnership with News Product Alliance (NPA), thanks to support from Google News Initiative (GNI).
The MOOC, which ran from Aug. 23 to Sept. 19, 2021, attracted 6,559 people from 148 countries and was taught simultaneously in three languages by three different instructors: Adriana Lacy (English), Mariano Blejman (Spanish) and Paty Gomes (Portuguese). They were joined by 10 different guest speakers from around the world.
"Many of the students left the class with actionable insights to bring into their newsrooms," Lacy said. "Even those who are not necessarily working on a product right now, they felt that they had tools to bring product thinking into their everyday lives."
"Seeing this feedback is another reminder that product thinking is not just for those who have official product titles, but really just a way of thinking for all," she continued.
The self-directed version of the course includes the syllabus, video lessons, video interviews with guest speakers, transcripts of each video, and readings.
So, start or continue on your journey with product thinking and consult this free, self-directed course today! Remember, it's available in English, Spanish or Portuguese!